The Family of Joe Walker
Hazard. Perry County,
Kentucky
This Information was collected by Lewis H. Walker and his daughter, Nancy Lynn Mortensen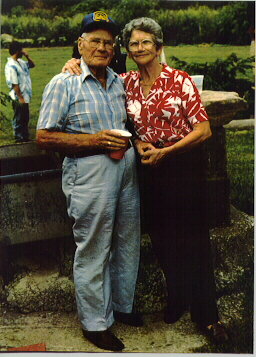 Marybelle (Ward) (Wells), Cass (Hughes), Mattie (Collins)(Roulette)(Phillips), Burtis
Grace (Combs), Grandma Elvira (Combs), Jerry, Grandpa John, my father, Beckum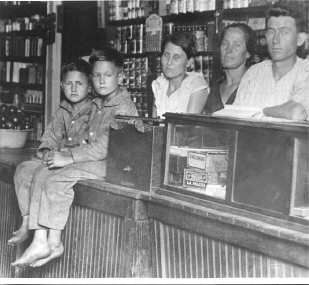 L to R- Vernon, Roy , Aunt Grace, Aunt Cass, Dave Hughes, in their store in Allais, Kentucky
Click on all hyperlinks for more information.
---
Last up date 8/19/1999
My father, Joe Walker, was born May 11, 1906, in the house owned by his father, John J., on the current site of the Hazard Vocational School. He was the 7th of 8 children.
He went to school until the 2nd or 3rd grade in Hazard Grade School in 1912 to 1915. He then attended schools,built in Allais, by the Columbus Mining Company. He attended them until the 6th grade (about 1918).
Two years later, at 14 or 15, he started loading coal with a pick and shovel for Bill Vitatoe for $2.00 per day. His brother Jerry got him the job. He was mining #4 seam coal under the land where be later built a house. He worked in and around the mines for about 3 years.
Then, about 17 years old, he joined the Army, riding a train to Jackson to enlist. At that time, there were no roads out of Perry County. He served in the army for about six months, getting discharged from Ft. Benning, Ga., lst Battalion Headquarters. His father sent $35.00 for him to get home on.
For the next 14 years he bootlegged, worked in the mines, hoboed to Texas, etc., looking for work during the early depression years. He spent time in jail for bootlegging on several occasions. During this time, Howard Smith moved into Hazard from Blue Diamond, Ky. He and Joe went to North Carolina, looking for work as hardwood loggers.
During this period, his brother Burtis married Elizabeth Begley from Leslie County (Bull Creek). They moved from Walkertown to Bull Creek to live. Joe went to stay with them, and there met Catherine Holliday at a square dance in 1932.
They were married on June 22, 1933 by her uncle, Preacher Sam Begley. Dad borrowed $2.00 from Tom Ward to pay for the license. Mom says he never did pay it back!!!
After they were married, they moved in with Dad's parents until after their first child, Mary Francis, was born. They later moved into a "camphouse" where Mary Francis died. After that, they moved by mule drawn wagon to Bull Creek into Godfrey Holliday's house. Lived there two months, then moved to Walkertown in a rented house where I was born.. In 1938, they built a house on a lot deeded them by John Walker. This is where Lloyd was born. This house was sold to Jerry in 1940 for $495.00. He borrowed money from the First Federal Savings Bank of Hazard to build the house.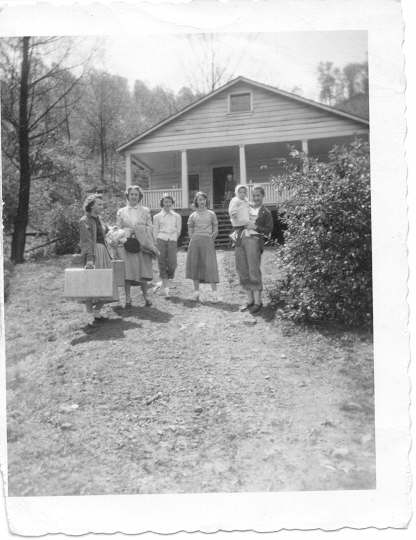 The house on Walker's Branch, where Lloyd was born. Billie Lou, Aunt Sybil, the twins, Lois and Joyce, Geraldine, holding David's daughter, Pamela, and Uncle Jerry Walker on the porch.
He used some of the money to go to Lenoir, North Carolina to join Howard Smith working in furniture mills for 30 cents an hour. Mom, Lloyd and I moved there with him until 1941 when we moved, by taxi, to Hamilton, Ohio.
His first job in Hamilton was building government homes in a housing project near the New London Bridge. He later worked for Duff Mix Company, had other miscellaneous jobs, and then worked for Fisher Body until he retired in 1968.
---
The siblings of Joe:

i. Marybelle, born November 24, 1888. She died, October 22, 1974 She married (?) Wells, and Thad Ward.She died in Hamilton, Ohio.

ii. Mattie, born September, 11, 1891. She died, September 3, 1969. She married (?)Collins,(?)Roulett, and S.C. Phillips, born March 14, 1892, died July 9, 1949 and had two sons, August Collins,born July 11,1923 died March 1,1945 in the Pacific, Larry C.Roulett, born September 2, 1930, killed in Korea and two daughters, Faye Roulette and Sillgurney Collins, born March 18, 1921, died October 20, 1921.

iii. Cassie, born February 18, 1894. She died, February 29, 1980, in Somerset KY. She married Dave Hughes, born December 30,1895, died March 13, 1981 and had three sons, Harold, died at birth December 3, 1925, Roy and Vernon.

iv. Burtis, born February 23, 18?7. He died, October 14, 1940 Married Elizabeth Begley, from Leslie County. Their children were: Chester Bertus, Elizabeth Rae, John Douglas, Edgar Huston, Elvira, Charles George, also known as Timothy Niels Hagemann, Roger Ramus, also knows as Donald Ray Bowman, and Roy Franklin.

v. Beckum, born January 24, 1900. He died, March 29, 1923.

vi. Jerry, born March 28, 1903. He died in a car wreck in New Paris Ohio, on August 22, 1959. He married Cybil Bowling and had one son, David, and daughters.Geraldine, twins Lois and Joyce, Billie Lou, and Dorsa Lee.

.vii. Joe, born May 11, 1906. He died at home in Hamilton, Ohio, on April 27, 1990. He is buried in the Millville Cemeter, Millville, Ohio.

viii. Grace, born February 17, 1910. She currently lives in Allais Kentucky. She married Eli Combs and had :

.....Glenda,

.....Valeria,

.....Ella

.....Eli Gehrig

.....David,

.....Beverly,

His Parents:

John J., born January 23, 1868. He died, May 21, 1954,of kidney failure, at the home of his daughter, Grace Combs. He is buried in the Riverside Cemetery, Hazard KY. He married Elvira Combs, February 24, 1888. She was born, November 17, 1868. She died, January 17, 1938, of tuberculosis. She is buried in the Riverside Cemetery, Hazard KY.

His Grandparents:

Jeremiah (Jerry Pete), born May 4, 1844. He died, January 15, 1923. He is buried in a small cemetery across the road and down from Riverside Cemetery, up on the side of a hill, behind some small houses. His headstone was present in 1986. He married (1)Rebecca Davidson. I do not have the date of their marrige, or the date of her birth. She died in 1882. She is buried across from the Presbyterian Church in Hazard KY., between the By-Pass and Broadway Street. There is no headstone.(2) Mahala "Allie" Evans, born February 14, 1847, died February 17, 1912.

.....The children of Jeremiah and Rebbeca:

..........John J., born 1/23/1868, died 5/21/1954

..........George Madison, born 12/13/1871, died 2/12/1923

..........Nancy Belle, born about 1872, married George Neace, born about 1870 in Hazard, Perry Co.Ky.

.....The children of Jeremiah and Mahala:

..........Emma, born about 1888, married (1) William Henry Combs, (2) Mack Eversole

..........Ellie Jane, born about 1886, married John B. Eversole

..........Cleveland, born November 4, 1884, died about 1970 in Hamilton, Ohio. He married Mint Sumner, August 2, 1905. She was born May 25, 1886 and died around 1970 In Hamilton Ohio.

..........Robert "Bob (Chicken Soup)", born 1880, married Lona North.

His Great-grandparents: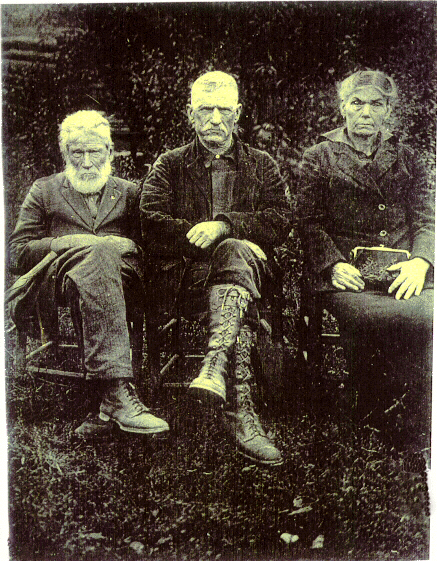 John "Red Neck" with his son James and daughter-in-law Mary Napier
John (Red-neck John) (K)? (JR.)?, born November 15, 1814. He died, February 5, 1898, in his daughters, Nancy Messer, home. He is buried in the Petrey Memorial Baptist Church cemetery, Walkertown, KY. He married Elizabeth (Polly) Combs, probably in 1833. She was born, December 6, 1820. She died, July 29, 1893. She is buried in the Petrey Baptist Church cemetery, in Walkertown KY.
.....The children of John and Elizabeth:
..........Elizabeth, born 1837
..........Wayne (Waynefield), born 1839. He atleast one son, John, who married Surrilda Combs, daughter of Richard and Elizabeth Young Combs. They had atleast one son, Ballard Fulton Walker SR.,who married Jessie Mabel Hicks. She was born, June 3, 1898 and died July 22, 1973. This information is from John Walker.
..........Elisa "Polly", born 1841, married Edward Davidson
..........Jeremiah, born 5/4/1844, died 1/15/1923
..........Mary (Ann)?, born 1845, married Joe Messer
..........Cecilia (Silia)?, born 1847, married Silas Crawford
..........Sally Ann, born August 10, 1850, married Bob Fields
..........Jackson, born January,1852, died about1935, married (1)? Brashear, (2)? Hill, (3)Sally Cornett
..........James, born 4/10/1855
..........Unnamed male, born dead 1856
..........Christopher, born 7/31/1858, died 8/4/1858
..........Nancy, born April, 1860, married Ruben Messer
Here the story becomes cloudy, with at least two theories. The one called, "Greasy John" was developed by my brother, and the other, "Soldier John", by Bob Walker, of Conroe Texas.
http://members.aol.com/rwa5352802/index.html Click here for more on "Soldier John"
His Great-great-grandparents:
John SR.(Greasy John), born sometime around 1789 to 1791. He died after 1870. He married Polly (Devers)?. She was born around 1800. She died after 1870.
.....The children of John Sr. and Polly:
..........John Jr., born 11/15/1814
..........Alexander, born 1818( the 1850 Census has him being 21). He married Elizabeth ?, she was 16 in the 1850 census. They had a son, William, born in 1850.
..........Christopher, born 1826, no date of death
..........Sarah, no date of birth or death
..........James, born 1840 (1850 census,has him at 10 years old) no date of death
John W.(SoldierJohn, Squirrel Man) WALKER, b. 1789/90 in TN, d. between October 1870 and December 1873 in Pecan Gap, TX and is buried at Waller Graveyard in Ben Franklin, TX. He married Polly DEVERS, b. ca. 1796 in TN or KY, on 3-Mar-1818 in Clay County, KY. She is buried at the Waller Graveyard in Ben Franklin, TX.
Their children were:
.....John WALKER (probable) b. 15-Nov-1814 or 1816/17 in Knox County, KY.
.....Martha WALKER b. 1826 in Perry County, KY
.....William Devers WALKER b. 1827 in Perry County, KY
.....Alexander Sherman WALKER b. 11-Apr-1830 in Perry County, KY
.....James Calhoun WALKER b. 26-Jul-1837 in Perry County, KY
His Great-great-great-grandparents:
John (Knox County John), born sometime around 1770 to 1775. He died about 1833. He married Lucy Harris around 1792. I have not found any birth or death dates, for Lucy.
.....The children of John and Lucy:
..........John, born about 1789/1791, died after 1870, in Perry County KY
..........Christopher, born about 1793/1795, died after 1860, in Madison County Arkansas
..........Sally, born 1798, died after 1875
..........James, born 1799, no date of death
..........Bryce, born 1801/1803, no date of death
..........Alexander, no date of birth or death, but may have married Mary ?
Possible his Great-great-great-great-grandparents:
Asaph Walker, born 1735, in Buckingham County, Virginia, died 10/21/1808, in Madison County KY. He married Judith watkins and had:
.....John, born 1765/1768
.....William, born 11/27/1769, died 8/28/1841
.....Celia, born 1771, married Lofty Mullins
.....Judith, born 1773, Married Thomas Bates
.....James, born 1775, married Nancy Estill, 1/27/1798
.....Stephen, born 1777, died 11/22/1816. Married Lucy Bates, maybe brother of Thomas Bates, Judith's husband, 3/1/1806
.....Elizabeth, born 1776, may have never married. She lived at home when Asaph's will was made.
.....Polly, born 1783
.....David, born 1/2/1786
Possibly his Great-great-great-great-great-grandparents:
Joel, born around 1700, in Henrico County, Virgina. Married Amelia Reeves and had:
.....Aspah,
Possibly his Great-great-great-great-great-great-grandparents:
David, no date of birth, died 1727. Married Elizabeth (no last name), and had:
.....David II, no date of birth, died 1727
.....Joel,
7/11/99, added family of Wayne and Hettie , 7/23/99, corrected a few errors, 8/19/99, added information on Mattie, Cass, and Jerry. 8-27-02, added picture of Walker home and Jerry Walker's family